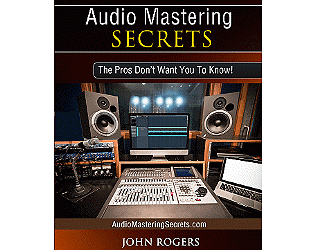 Here are a handful of testimonials from the over 7,500 clients I've worked with since 1999. I want you to know you'll be learning from an audio engineer that not only achieves amazing mastering results, but also displays a high-level of professionalism, patience, and speed.
That is very kind of you to give me such detailed notes on ways I can improve future mixes and recordings.... I've been reading up on your mixing tips articles, and they are very informative, but having something thats personalized feedback on my mixes is beyond fantastic! I really want to thank you, John, again for everything, all the tips, all your time and work, you've got loyal clients here, I will certainly continue to always bring my business your way... Aaron F.

Every project I work on always goes to John! He has an awesome way of turning your track into something really great! I always suggest him to other producers. I will continue to use him on ALL my tracks, and I would recommend him for all of your projects! Jake W.

They sound great!! Thanks for finishing so quickly! Jared Reddick, Bowling For Soup

I don't now how you do it, but you are amazing! You are so dead on with your instincts and skills. I'm gonna drop $36 into your PayPal account. Keep the extra $30 as a tip. Go have a beer on me. An EXPENSIVE one! Wow, you have just blown me away with your work. I'm coming to you every single time, man. You are the tops. Give me a call anytime you need anything, and if I can help, I will. And when we gear up for our next CD, I'll give you a shout. Thanks again, man. You're just awesome. Felix

I wanna thank you for your help and for going over everything with me. You don't know how much I appreciate it. I've had a few projects mastered, but none compare to your service! As far as customer service, patience and punctuality you have been A1 and I appreciate it. In the future any projects I do I will be coming straight to you. Thanks. Erick B.

Thank you so much! I dig it and am ready to call it a finished product. You've helped me turn a small basement project into something that sounds bigger than I'd ever thought I was capable of having, and I'm very grateful for it. I'll be recommending you to all of my friends. Rich A.

I've listened to the songs a lot and I still think they sound absolutely amazing! Everything sounds outstanding and I am completely happy with the songs! It was a pleasure working with you as well man, the songs kick ass!! Thanks a ton. Nick V.

Thank you John. I really appreciate your professionalism and honesty. So far they sound great, great, great. I'm very happy. I will listen back to them as you suggest, but so far they sound perfect. It's definitely been pleasure working with you and I'll absolutely be in touch for anything else / referring others. Thanks so much John! Xavier A.

The songs sound great! Thank you so much for your help with this project. You are the man! These tunes are so much better after the work you put into them. I cant say it enough... Thank you John. William P.

Just listened to the song and the difference between what I thought was good quality all these years up until now is incomparable. I've been doing home recording since I was 12 years old and been chasing that radio quality for 14 years and John made it ever so clear to me now. It's not about turning the nobs up on the channels to boost your vocals, you need the professionalism and expertise from this man to make your project stand out like the artist in mainstream today. JRM you definitely have another loyal client. Young N.

I think you are a genius, it sounds SOOO good. You spread the frequencies so beautifully. I am so glad to have found your service!!! William L.

Your mastering has made quite a difference! Sounds a hell of a lot clearer, louder, and you can distinguish between different instrument sounds better. Really pleased with it. Soooo much better. And thanks for the incredible quickness! Best mastering service ever!? I think so. Many thanks. Graham W.

Michele and I think everything else sounds fantastic!!!!! Great Job!!!!! We both listened to the songs on cd in our cars and they sounded just incredible. Thank you so much for the talent, patience and help in creating a killer finished product for us!!!!! JB L.

Just listened to demo 4 and all I can say is wow. Considering what I gave you to work with I couldn't be happier with the outcome! The songs sound a million times better. Thanks again you did an amazing job! Delorme

Finally gave the tape a bunch of listens on several different sound systems- It sounds GREAT! Thanks so much for all of your hard work. Admittedly, we were skeptical and nervous about sending our hard work across the country to someone we don't know, but the quality of your work, professionalism and customer service exceeded all expectations! We look forward to working with you in the future and hope to find some success with this mixtape! GK